WHEN CALLS THE HEART
(The movie not the TV series.)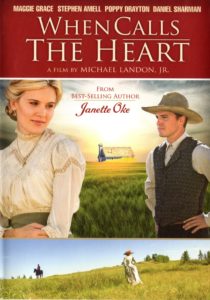 "When Calls the Heart" (The Movie)
Before Michael Landon, Jr. worked on the When Calls the Heart TV series (starting in 2014), he had just finished making a movie based on Janette Oke's famous book.
If you do not want to view the entire 3 seasons of the TV show but want to find out what all the excitement is about, watch the movie.
It's a great movie, with fantastic scenery and good acting and an interesting twist to the book's plot. The actors playing the "older" or "original" Elizabeth and her Mountie are great but the young actors you play the "younger" Elizabeth and her Mountie do a good enough job but they lack the tension and better acting found in the TV series.
But in either case I think you will enjoy the movie. I rate it 3 stars.
= = = = = = =
From the DVD Hallmark (2013) movie jacket:
"When Calls the Heart is the story of Elizabeth Thatcher, a cultured young school teacher in 1910 who, through the discovery of her aunt's secret diary, finds the courage to leave her big city home to accept a teaching position in a frontier coal mining town. And in the process, she also finds the potential for love with a handsome Royal Canadian Mountie."
Written and directed by Michael Landon, Jr.
Starring Maggie Grace, Stepehn Amell, Popy Drayton, Daneil Sharman
Approved by the Dove Foundation.