Christian Audio Books
Besides movies, we are starting to review and rate Christian Audio Books. One's imagination is so much better than even the best movie production.
We also find Audio Books to be a great way to break up the monotony of long car drives. In our personal opinion, listening to a good story keeps one more alert when driving for hours at a time. And it is much safer than talking or texting on a cellphone. Of course, on busy highway traffic, we shut off the car audio system especially in city traffic.
For the older generation, listening to Audio Books will remind you of listening to the stories on the radio when the radio was the main source of entertainment (before the local neighborhood movie theater and before television).
TAMERA ALEXANDER is our favorite historical fiction novelist. You will enjoy ALL of her novels. Christian Audio has made most if not all of her novels on audio CDs: Her novels include:

THE INHERITANCE
FOUNTAIN CREEK CHRONICLES:
REKINDLED
REVEALED
REMEMBERED
TIMBER RIDGE REFLECTIONS:
FROM A DISTANCE
BEYOND THIS MOMENT
WITHIN MY HEART
BELMONT MANSION:
A LASTING IMPRESSION
A BEAUTY SO RARE
A NOTE UNSUNG
BELLE MEADE PLANTATION:
TO WHISPER HER NAME
TO WIN HER FAVOR
TO WAGER HER HEART
BEYOND THIS MOMENT by Tamera Alexander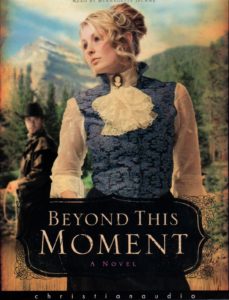 BEYOND THIS MOMENT by TAMERA ALEXADER
Lives are made up of Tiny Steps:
Some are chosen for US; Some WE choose.
All hold the POWER to change who we BECOME – but only if we let them.
When Dr. Molly Whitcomb, Professor of Romance Languages, steps off the train in Colorado Territory, she makes a choice – one that goes against everything she stands for. Yet it's the only choice that offers her a chance to regains a fraction of all she's lost.
Sheriff James McPherson's instincts about people rarely miss the mark. He senses Professor Whitcomb is hiding something. He just doesn't know what. When James learns Molly's secret, his own reputation is undermined. And when Molly Whitcomb's reinvented life begins to unravel, it threatens his job, the stability of Timber Ridge, and what he always knew to be true about himself.
ACCLAIM FOR TAMERA ALEXANDER
"Tamera Alexander paints scenery with the written word and makes characters, stores, and insights linger long after the book is read." Cindy Woodsmall, New York Times Bestselling Author
"The characters are charming, engaging and very realistic… a great story that will have readers quickly turning pages." The Romance Readers Connection.
= = = = = = = =
Approximately 11.1 hours on 9 CDs.
READ BY Bernadette Dunne.
This audio edition is slightly abridged with approval from Bethany House Publishers.
@2009 Tamera Alexander, All Rights Reserved
Audio Book @2009 christianaudio
ISBN 978-1-59644-704-2