VICTOR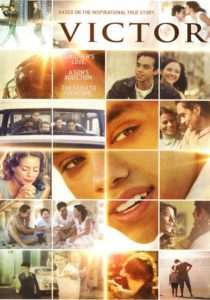 VICTOR
(From the DVD movie jacket:)
BASED ON THE INSPIRATIONAL TRUE STORY.
A MOTHR'S LOVE
A SONS'S ADDICTION
THE FAITH TO OVERCOME
"A moving testimony of the power of prayer and the beauty of redemption." Crosswalk.com
In the early 1960s, Victor Torres and his family moved to Brooklyn, New York from their native Puerto Rico in search of a new life. The American dream quickly fades as they face a life of need in their adopted home. As a new recruit in a street gang, a teenager Victor embarks on a lucrative new drug-trafficking business in an attempt to help his struggling family. Victor is quickly enslaved by drug use, and his parents, Manuel and Lila, desperately search to find a way to help their son. A faith-based rehabilitation program is their last chance to rescue Victor.
Victor is based on Victor Torres' autobiography "Son of Evil Street". Victor also shares the story of his mentor, David Wilkerson, who ministry is famously chronicled in the 1970 file THE CROSS and THE SWITCHBLADE.
After collaborating on the award-winning documentary LIFE IN A BOX, Executive Producer Greg Wilkerson, (Son of David Wilkerson, who is depicted in the film) and director/Co-writer Brandon Dickerson join forces to tell this inspiring story.
= = = = = = =
PG-13 For Mature Thematic Material involving drug use and some violence. 105 mins.
1:85:1 Anamorphic Widescreen Audio English 5.1 Surround