TRUE GRIT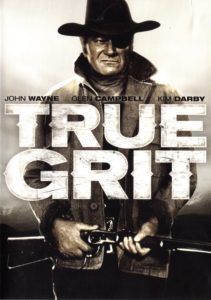 TRUE GRIT
John Wayne has "True Grit". Staring also Glen Campbell (yes - the country/folk singer) and Kim Darby who does an excellent job. We really liked this movie and we like it better than the more recent remake starring Jeff Bridges.
(Info from the DVD movie jacket.)
THREE UNLIKELY COMPANIONS
ONE SHOT AT JUSTICE
John Wayne earned the 1969 "Best Actor" Academy Award for this larger-than-life performance as the drunken, uncouth and totally fearless one-eyed US Marshal, Rooster Cogburn.
The cantankerous Rooster is hired b a headstrong young girl (Kim Darby) to find the man who murdered her father and fled with the family savings. When Cogburn's employer insists on accompanying the old gunfighter, sparks fly. And the situation goes from troubled to disastrous when an inexperienced Texas Ranger (Glen Campbell) joins the party.
Laughter and tears punctuate the wild actions in this extraordinary Western which also features performances by Robert Duvall, Jeremy Slate and Strother Martin.
Rated G but we would rate it PG. 1969 127 mins by Warner Brothers.