TIME CHANGER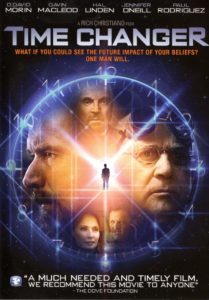 (Info from the DVD movie jacket.)
WHAT IF YOU COULD SEE THE FUTURE OF YOUR BELIEFS. ONE MAN WILL.
"A MUCH NEEDED AND TIMELY FILM, WE RECOMMEND THIS MOVIE TO ANYONE." The Dove Foundation
The year is 1890 and bible professor, Russell Carlisle has written a new manuscript called, "The Changing Times". His book is about to receive an unanimous endorsement from the board members of his Grace Bible Seminary until his colleague Dr. Norris Anderson raises an objection.
Dr. Anderson believes that what Carlisle has written could greatly affect the future of coming generations. Using a secret time machine, Anderson sends Carlisle over 100 years into the future, offering him a glimpse of where his beliefs will lead.