The Secrets of Johnathan Sperry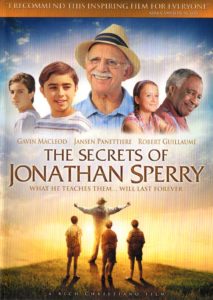 (Info from the DVD movie jacket.)
"I RECOMMEND THIS INSPIRING FILM FOR EVERYONE." Kirk Cameron, Actor
WHAT HE TEACHES THEM WILL LAST FOREVER.
A RICH CHRISTIANO FILM
Starring: Gavin MacLeod, Jansen Panettiere and Robert Guillaume
"A HEARTWARMING EXPEREIENCE FO THE ENTIRE FAMILY." Pat Boone, Actor/Singer
Dustin (Jansen Panettiere) and his two best buddies are twelve-year-olds looking forward to a summer of fun in 1970. When Dustin mows the lawn of seventy-five year-old Jonathan Sperry (Gavin MacLeod), a man he has seen at church, a unique friendship develops. What happens the rest of this summer is something Dustin and his friends will never forget! An inspiring film for all ages.
96 mins PG
"A touching message that will impact both young and old!" Josh McDowell, Author