THE RIDE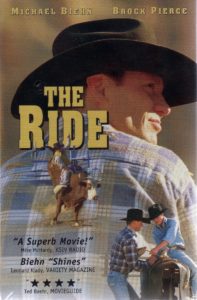 The Ride" (equivalent to a PG13) (1997) (101 Mins)
(For older teenagers and adults.)
THE RIDE
from World Wide Pictures
Smokey Banks (Michael Biehn), a former world champion bull rider, has spent the past few years messing up his life with drinking and gambling. Now he's been assigned community service with Mike Stillwell at the Saguaro's Boy's Ranch for stealing their truck.  Since his only other option is jail, Smokey reluctantly agrees to the terms: stay out of trouble and teach Danny O'Neil (Brock Peirce) how to ride a bull.
He has no idea how drastically the people at the ranch are about to change his life ... especially one 14-year old boy.
"To them you're still a rootin' tootin' championship bull rider. Treat this like a fresh start and who knows ... maybe it will be."
www.billygraham.org/MediaPlayer/Default.asp?