The Mighty Macs (99 minutes)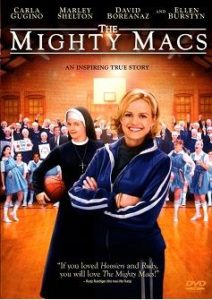 Staring: Carla Gugino, Marley Shelton, David Boreanaz and Ellen Burstyn.
| | |
| --- | --- |
| Our Overall Rating(out of 5 stars) | 3 Stars |
| Photography | 3 Stars |
| Acting | 3 Stars |
| Story | 3 Stars |
An Inspiring True Story   (From the DVD movie jacket.)
"If you loved the Hoosiers and Rudy, you will love The Mighty Macs!" Rudy Ruettiger (the real-life Rudy)
From the inspiring true story comes the tale of one woman who just wanted to make a difference and wound up making history! When Coach Kathy Rush (played by Carla Gugina who appeared in Mr. Popper's Penguins) arrived at tiny Immaculata College, the woman's basketball team has no budget, no uniforms and no gym. Refusing to give up, Cathy finds help from a young nun names Sister Sunday (played by Marley Shelton who also appeared in Never Been Kissed).
Together, their relentless drive reignites the team's spirit and the Mighty Macs start conquering bigger and better-funded schools. As financial troubles rock Immaculata, the Macs charge into the championships against all odds. Can the Mighty Macs save their school with one last long shot at victory? You'll stand up and cheer for the heartwarming, incredible season that made the real Cathy Rush a Basketball Hall of Fame legend!