SILVER BELLS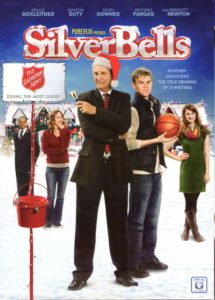 (Information from the DVD movie jacket.)
PureFlix presents Silver Bells.
A FATHER DISCOVERS THE TRUE MEANING OF CHRISTMAS
Veteran sports anchor, Bruce Dalton, lives life "for the win." But, to his family, friends and those around him, that's not always a positive thing. After getting into brawl with a referee at his sons' basketball game, Dalton is sentenced to community service as a Salvation Army bell ringer during the Christmas season. Approaching even raising donations and filling food baskets as a game to be won, things quickly go south. Will Dalton learn that life isn't a win or lose game, but a sport best played as a team? Dalton's job and relationship with his family hang on that very question…
Starring Bruce Boxleithner, Kenton Duty, Kevin Downes, Antonio Fargas, and Bridgett Newton.
Dove Foundation: Suitable for All Ages
MPAA Rating: G