SECRET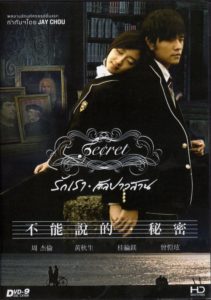 So this is somewhat surprising: we are reviewing a movie that only has English Subtitles! The language choices are Mandarin Chinese and Thai!
But if you like good music like we do, you will enjoy the extremely talented piano playing in this movie.
EXTREME CAUTION: This movie is for very mature Christians only due to the eastern re-incarnation theme. That suicide leads to meeting his lover again in another time-frame. (We would rate the movie a PG13.)
The best part of the movie is the piano dual between the two very gifted students. The romantic love scenes are cute until the strange ending which is "The Secret".
If you have a good video-editing software then you can edit the movie for your better enjoyment.
Like the TOGETHER movie which features very talented Chinese violinists, this movie features very talented young pianists.