SAVING SARAH CAIN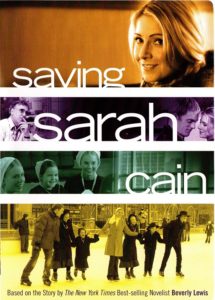 SAVING SARAH CAIN (PG) (103 mins)
(from FOX and Believe Pictures)
DOVE Family Approved (www.dove.org).
SAVING SARAH CAIN
(Edited from the DVD movie jacket.)
"Happiness Comes When You Least Expect it!)
Powerful, funny, heartwarming and triumphant, Saving Sarah Cain is a captivating film directed by Michael Landon, Jr. and featuring performance from Academy Ward nominees Elliot Gould and Tess Harper.
Sarah Cain (Lisa Pepper) is a sweet, successful, slightly self-absorbed and a city-girl through and through. But when the untimely death of her sister draws here to Amish country from the funeral, she makes a discovery that will change her life: she is now the legal guardian to five Amish nieces and nephews! Desperately trying to juggle the kids, her career and her comfort level, Sarah must reevaluate her priorities as she prepares for the biggest culture shock of everyone's lives.
* * * * * * * * * * * * * * * * * * * * * * * * * * * * * * * *
Our Overall Rating (out of 5 stars)   4 Stars
Photography                                  4 Stars
Acting                                           4 Stars
Story                                            4 Stars