PRIDE and PREJUDICE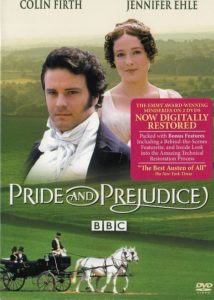 PRIDE and PREJUDICE
Jane Austin's novels and hence the movies made from her writings promote world-wide Christian viewpoint of virtue, grace and manners. While sometimes poking justified fun at some church ministers who give long boring sermons, Jane Austin obviously took the Christian religion seriously and believed in its moral value system.
Pride and Prejudice (series made for TV)
(5 hrs and 23 mins total with extras) (1995)
(This information edited and enhance from the movie jacket.)
"The best Austin of all." The New York Times
"Absolutely seductive." The Boston Herald
This version of Pride and Prejudice has taken its place as the greatest television production of all time. The landmark adaptation from A&E and the BBC captured the hearts of millions by seamlessly translating the wit, romance and intelligence of Jane Austin's classic novel to the screen.
With a masterful script, deft direction, and star-making performances from Colin FIrth and Jennifer Ehle, Pride and Prejudice transports viewers to Georgian England, where affairs of the heart are an exquisite game, and marriage the ultimate prize. But Elizabeth Bennet - spirited, independent, and one of five unmarried sisters - is determined to play by her own rules and wed for love, not money or privilege. Will her romantic sparring with the mysterious and arrogant Darcy end in misfortune - or will love's true nature prevail?
Now beautifully remastered for the ultimate in picture and sound quality, relive the timeless classic Pride and Prejudice on 2 DVDs.
= = = = = = = = = = = = =
Additional comments from us:
We like this 1995 TV series of Pride and Prejudice over the famous 2005 movie version. However, both this 1995 and the 2005 productions are nothing but excellent movies to watch. WARNING: this TV production is over 5 hours long!
We rate it as 4 stars in the genre of Romance and Drama and only 3 stars for in the genre of Romantic Comedies.
More information about this movie:
The Emmy Award-Winning TV Miniseries now on 2 DVDs packed with Bonus Features:
Behind The Scenes,
Inside Look into the Amazing Technical Restoration Process,
Lasting Impressions - a Walkaout with Adrian Lukis and Lucy Briers.
BBC and A&E and Chestermead.
English Subtitles available (CC).
Anamorphic Widescreen available.
www.AETV.com