MUSIC OF THE HEART
MUSIC OF THE HEART
Music of The Heart
"A Movie with Heart!" Chicago Tribune
2 Academy Award Nominations:
Best Actress - Meryl Streep
Best Original Song - "Music of the heart"
Two-time Academy Award "winner" Meryl Streep (One True Thing) stars with Angela Basset (How Stella Got Her Groove Back) in a heartwarming, acclaimed true story of how one woman's musical gift affected those who least expected it! A single mother with little more than talent and the determination to make a difference, Roberta Guaspari (Streep) overcame the skepticism of everyone who didn't think she should be teaching violin to students in a tough inner-city neighborhood. But even after a decade of ever-growing popularity and countless success stories, Roberta and her students must rise to meet an even greater challenge: budget cuts aimed a shutting down her valuable program for good! Also starring Aidean Quinn (Practical Magic) and Grammy winner Gloria Estefan in a stellar cast, this extraordiany story will inspire anyone who's ever thought their dreams were too far out of reach!
TOGETHER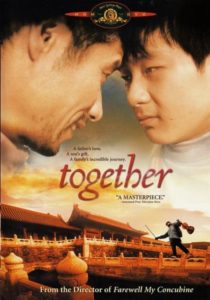 Together Movie (119 mins) (2003) (PG) (Note: We would rate this movie PG13 due to several scenes.)
"If you like classical music especially violin music, you will love this dramatic movie. It's in Chinese with English Subtitles." Yonko Mali
(The following information edited and enhanced from the Movie Jacket cover:)

A Father's Love,
A Son's Gift,
A Family incredible journey!
"A Masterpiece" Associated Press Television News
"Absolutely thrilling, do not miss it." Jefferey Lyons, NBCTV
Chen King, director of the Oscar-nominated "Farewell My Concubine", composes a richly imagined and "tender symphony" (Screen International" about love, ambition and destiny in China's high pressure world of classical music. Surging with "warmth, humanity and a sense of humor. (The Hollywood Reporter), this lyrical, enchanting "heartwarmer" (Variety) is a "sure-fire crowd-pleaser" (Los Angeles Times)
Other information about this movie:
Widescreen 16:9 Ratio 1.85 to 1
www.mgm.com
Language: Mandarin Chinese with English Language Subtitles (CC)
DVD Includes the original Theatrical Trailer