JERUSALEM COUNTDOWN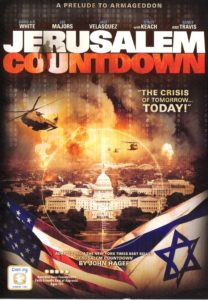 "An excellent action-pack Christian movie." Yonko Mali
(Info from the DVD movie jacket.)
A PRELUDE TO ARMAGEDDON
"THE CRISIS OF TOMORROW - TODAY!"
"GET READY FOR THE RIDE OF YOUR LIFE." The Dove Foundation, 5 star rating, Faith Friendly and Approved for ages 12+ (dove.org)

With the Middle East in turmoil, Israel's preeminent ally is trust into an impending war - America is now the target as the battle for Jerusalem begins. Adapted from the Best Selling Book by Pastor John Hagee, Jerusalem Countdown highlights the reality of current events unfolding between Israel and Islam. When nuclear weapons are smuggled into America, Senior FBI Agent, Shane Daughtry (David A.R. White) is faced with an impossible task - find them before they are detonated.
The clock is ticking and the only people who can help are a blacklisted arms dealer (Lee Majors), a retired Israeli Mossad Agent (Stacy Keach) and a by-the-book CIA Deputy Director (Randy Travis). In this film of international terror and suspense, nuclear holocaust on American soil threatens global stability and the impending destruction of the world.