The Jackie Robinson Story "42" (Original 1949)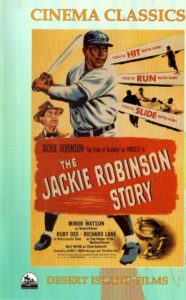 The Jackie Robinson Story "42"
(Desert Island Films, 76 mins, NR (our rating PG))
(www.desertislandfilms.com)

A movie biography of Jackie Robinson, the first black major league baseball player in the 20th century. The movie traces his career in the negro leagues (Kansas City Monarchs and in the major leagues (Montreal Royals and Brooklyn Dogers).
Jackie Robinson plays himself in this movie!
After Jackie Robinson was accepted, he became known as "The Pride of Brooklyn".
What prompted us to watch and review this old movie about Jackie Robinson was after we watched the new movie "42". We enjoyed the movie and would highly recommend it but we were disappointed that neither movie did a good job of showing Jackie Robinson's Christian faith.
Link to Wikipedia on Jackie Robinson:
http://en.wikipedia.org/wiki/Jackie_robinson
* * * * * * * * * * * * * * * * * * *
Minor Watson plays Branch Rickey
Staring Ruby Dee of "Anna Lucasta" fame.
Richard Lane as Clay Hopper of the Montreal Royals.
Bill Wayne as Clyde Sukeforth.
Directed by Alfred E. Green who gave us "The Jolson Story"
Produced by Mort Briskin.
An Eagle Lion film release.
Written for the screen by Lawrence Taylor and Arthur Mann
The new "42" movie about Jackie Robinson to be reviewed shortly.