HOME RUN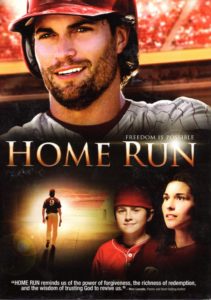 An excellent movie for older teenagers and adults.
Our rating is 3 stars.
(From the DVD movie jacket.)
FREEDOM IS POSSIBLE
"HOME RUN reminds us of the power of forgiveness, the richness of redemption, and the wisdom of trusting God to revive us."  Max Lucado, Pastor and Best-Selling Author
"HOME RUN is a MUST SEE STORY of CHANGE and REDEMPTION -- a story all of use=need to hear and know. Freedom is possible with God in our lives!" --Joel Osteen, Pastor of Lakewood Church and best-selling author
Baseball all-star Cory Brand knows what it takes to win in the big leagues. But off the field, with memories of his past haunting him, his life is spiraling out fo control. With an unexpected second chance, Cory finds himself on a powerful journey of transformation and redemption. Based on thousands of true stories, HOME RUN is a powersufl reminder that with God, it's never too late...FREEDOM IS POSSIBLE.
"It's a WONDERFUL MOVIE. It touches your heart in a way that will change your life." -- Brett Butler, Former All-Star Baseball Player
PG-13, 113 mins.