CHRISTMAS ANGEL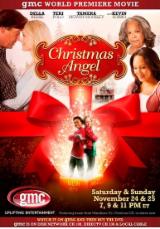 Christmas Angel starring Della Reese, Kevin Sorbo, Terri Polo and perky child actress Izabela Vidovic. When I watched this movie, part of the plot is young precocious Olivia discovers that the secretive Malia (played by Della Reese) was actually a famous singer. -
Like Olivia, "I discovered" something I did not know before - was that in real life Della Reese was a famous singer (I am sure all of you out there knew that?). So in some ways this movie story is partly a biography of Della Reese.
At first Olivia believes that maybe Malia is an angel - the audience laughed because Della Reese did play an Angel in the TV series "Touched by an Angel".
I really like this movie and I hope to make it a family tradition to watch it every year at Christmas. It may never become as famous as "Christmas Story" ("You'll shot your eye out!") but it has a much stronger Christian message for the Christmas season. However, very young children may find a few scenes a little scary which prevents it from overtaking Christmas Story as a "G" rating family movie. I recommend it for children 9 years and older. But you be the judge. I recommend that parents always watch all movies themselves before showing it to their children.