WAR ROOM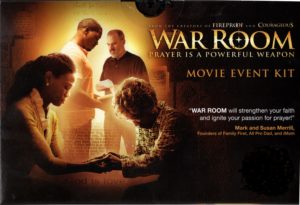 WAR ROOM
War Room is one of the best produced Christian Movie in recent years!
There were many amazing small miracles that occurred during the making of this film - make sure you watch the special features that come with the DVD to be inspired not only by this movie but by the story of it's making as well! Yonko Mali, A Movie Ministry
Overall Rating 4 Stars
Acting              4 Stars
Photography   3 Stars
Story               4 Stars
"INSPIRING AND ENTERTAINING! A BRILLIANT FILM!"
- Brian Doyle, Founder and President, Iron Sharpens IronBECAME THE #1 MOVIE IN AMERICA!
(Information from the DVD movie jacket:)
From the creators of FIREPROOF and COURAGEOUS, comes WAR ROOM, a compelling faith drama filled with humor and heart that became the #1 movie in US theaters and received raving reviews from audience of all ages.Tony and Elizabeth Jordan have it all -- great jobs, a beautiful daughter, and their dream house. but appearances can be deceiving. Their world is actually crumbling under the strain of a failing marriage. While Tony basks in his professional success, Elizabeth resigns herself to increasing bitterness. But their lives take an unexpected turn when Elizabeth meets her newest client, Miss Clara, and is challenged to establish a "war room" and a battle plan of prayer for her family. As Elizabeth tries to fight for her family, Tony's hidden struggles come to light. Tony must decide if he will make amends with his family and prove Miss Clara's wisdom that victories don't come by accident.
To preview the movie trailer:
http://www.providentfilms.org/film/war-room