UNIDENTIFIED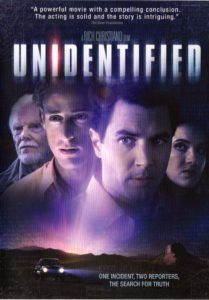 UNIDENTIFIED is a low-budget movie that is really quite good. And probably like you, we always wondered about UFO reports. And I think this movie gives the correct explanation. They are a spiritual manifestation of evil beings.
(Info from the DVD movie jacket.)
"A powerful movie with a compelling conclusion. The acting is solid and the story is intriguing."
ONE INCIDENT, TWO REPORTERS, THE SEARCH FOR TRUTH
"THIS SUSPENSE-FILLED MOVIE WILL TRHILL YOU AND INSPIRE YOUR FAITH." Dr. Jack Van Impe
An incident occurs in a small Texas town. A man claims to have encountered a UFO while driving home at night on a back highway. Two reporters from a national magazine are sent to investigate. One reporter thinks it's a hoax but the other senses that something has really occurred. When their editor decides to publish a cover story on the controversial subject of UFOs, the religion editor gets involved. As each reporter works to prove his side, they become intrigued then consumed by the implications of what they discover. Is there a spiritual connection? Are there eternal consequences?
PG (85 mins)