STEVE MCQUEEN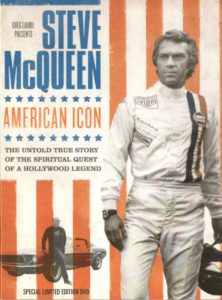 Greg Laurie presents Steve McQueen
American Icon
THE UNTOLD TRUE STORY
OF THE SPIRITUAL QUEST
OF A HOLLYWOOD LEGEND
ACTOR, LEGEND, TOUGH GUY, AMERICAN ICON
Like so many people today, Steve McQueen was a man who pursued fame, wealth, and pleasure in an attempt to find fulfilment and meaning. It wasn't until the end of his life that he found the true source of satisfaction in a relationship with Jesus Christ.
Following the story of his spiritual quest, Steve McQueen takes viewers on a journey that ends with the hope of the gospel and the redemption of an American Icon.
Included with the film is fantastic bonus content, including Lost Boy (the story of Greg Laurie's life), interviews with Mel Gibson and Greg Laurie about the film, and video about the discovery of the missing stunt car from Steve McQueen's hit file, Bullitt.
= = = = = = =
[email protected] by American Icon Films. All rights reserved.
PO Box 4000
Riverside, CA 92514
800-821-3300 harvest.org