LES MISERABLES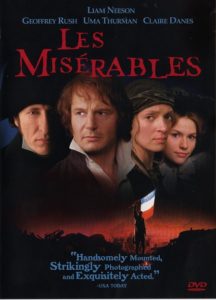 LES MISERABLES
Les Miserables (PG13) (Our overall rating is a great 4 stars)
This is the best movie version of the classic, world-famous book by Victor Hugo.
You may hate the musical and stage theatrical version but you will love the movie (it is NOT a musical!!!).
While I knew about Victor Hugo's classic novel set during the French Revolution, I had never read it and when my sister treated me to the musical version of Les Miserables, I had decided I did not have to read this novel about the French Revolution. Not realizing that the modern musical and theatrical stage presentation, completely fail to show the greatness of this novel, especially ignoring the Christian themes that heavily permeate the story.
The musical and stage production emphasize the love story between the two young people, and celebrate that love in song and music, but fail to show the love of God and about how men can hate one another but also how some men, after receiving grace and mercy from others who love God, can then show great love and mercy and compassion to others.
The musical also fails to show adequately the difference between following the "letter of law" versus following the true spirit of God's law.
After watching this movie, I was eager to read the book. I hope you will enjoy this movie and the book as well as I have!