"Last Flight Out" (2004) (83 mins) (Not Rated - we rate it PG13 for violence)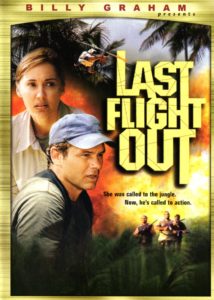 produced by World Wide Pictures
To see a preview of this movie: Last Flight Out Preview.
Last Flight Out
"Compelling thriller, dynamic, heartwarming", Last Flight Out will touch many lives for God's Kingdom.
From the film ministry of the Billy Graham Evangelistic Association comes an explosive tale of sacrifice and international rescue. Last Flight Out is a thrill-ride through tragedy, lost love, and redemption.
Hot shot pilot Dan Hogan is sent deep into the Colombia jungle to rescue missionary doctor Ann Williams.
Rescuing the woman he loves will be Dan Hogan's biggest adventure yet. Last Flight Out is a daring international rescue that could have been torn straight from today's headlines.
Dan (Richard Tyson, Black Hawk Down) is a repo pilot, is hired to rescue his lost love, medical missionary Dr. Ann Williams (Bobbie Phillips, TV series The Cape). Sporadic reports to Ann's family reveals that ruthless drug runner General Salazar (Rene Moreno, Band of Brothers) has terrorized her Colombian village seeking slave labor. I's time to get her out.
Despite the imminent danger, Ann refuses to leave without the oppressed villagers that she's come to love. With a rescue plane large enough for only ten and General Salazar breathing down his neck, Dan appears to have met his match. Strap in for heart-pounding action as you take the Last Flight Out!!
* * * * * * * * * * * * * * * * * * * * * * * * * * *
Our overall rating (out of 5 stars)          3 Stars
Photography                                       4 Stars
Acting                                                 3 Stars
Story                                                  3 Stars