JESUS OF NAZARETH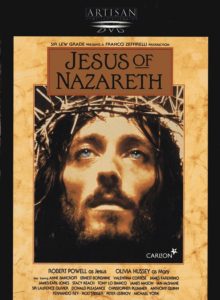 JESUS OF NAZARETH (1977) (382 Mins) Not Rated (equivalent to a PG13). Our overall rating is 4 Stars !!!

A Movie Ministry Recommendation and Comments:
Our favorite Jesus movie.
Many have their favorite Jesus movie, this one is ours. It has great acting by great and famous actors, splendid scenery, rousing music and it is a very accurate portrayal of the life of Jesus! This is the BEST Jesus film in our opinion!
(This information is from the DVD movie jacket.)
Beginning from the Nativity and extending through the Crucifixion and Resurrection, Jesus of Nazareth brings to life all the majesty and sweeping drama of the life of Jesus (portrayed by Robert Powell) as told in the Gospels. A star-studded international cast, featuring Michael York, Sir Lawrence Olivier, James Earl Jones, Anne Bancroft, Olivia Hussey, Rod Steiger and Anthony Quinn, adds depth and humanity to the roles of the saints, sinners and ordinary people who walked in the footsteps of the Lord. The film provides the setting and background for the birth, childhood, baptism, teaching and many miracles of the Messiah, culminating in the Divine Resurrection. Directed by Oscar nominee Franco Zeffirelli and acclaimed by critics and religious leaders worldwide, Jesus Of Nazareth tells the greatest of all stories with tremendous emotion and splendor.
JESUS MOVIE
JESUS MOVIE
This Jesus Movie is the world famous movie about Jesus that has been shown all over the world in various languages. It has been used by a variety of Christian organizations to evangelize the world.
While this movie has wide publication, our choice for the best Jesus movie is Jesus of Nazareth. While effective for evangelizing, this Jesus movie was a low-production movie compared to other movies like Jesus of Nazareth which has better actors and photography.